Do you possess the passion for clicking pictures? Do just wander around with a camera in your hand? Do you often get mesmerised by an object and think wish I had a camera with me right now? If that is the case then there resides a very talented photographer within you who can turn his/her passion into a full-time successful career.
The final click by a photographer conveys his/her idea or imagination behind clicking that picture. And this is the goal of the institutes that teach photography. There are various different types of photography like fashion photography, wildlife photography, aerial photography, jewellery photography, etc. But, the one thing that is necessary for every genre of photography is the basics of photography.
Once your basics of photography are clear, you can opt any genre as your profession or you can become a versatile photographer by trying different genres. There are many professional photographers in India with whom you can boost your career. But, they specialize in a certain genre and there would not be much to explore.
The Indian educational sector is vast; there are hundreds of fields to opt from. The media sector is the fast-paced sector in the country. There are many leading photography institutes which offer tailor-made courses. These courses train students in such a manner that they produce a good quality product than just learning photography techniques and methods and theories for getting a degree. They cover the basics which later diverts into specialization.
Here is a list of Top 5 colleges for photography courses in India
Delhi College of Photography (Delhi)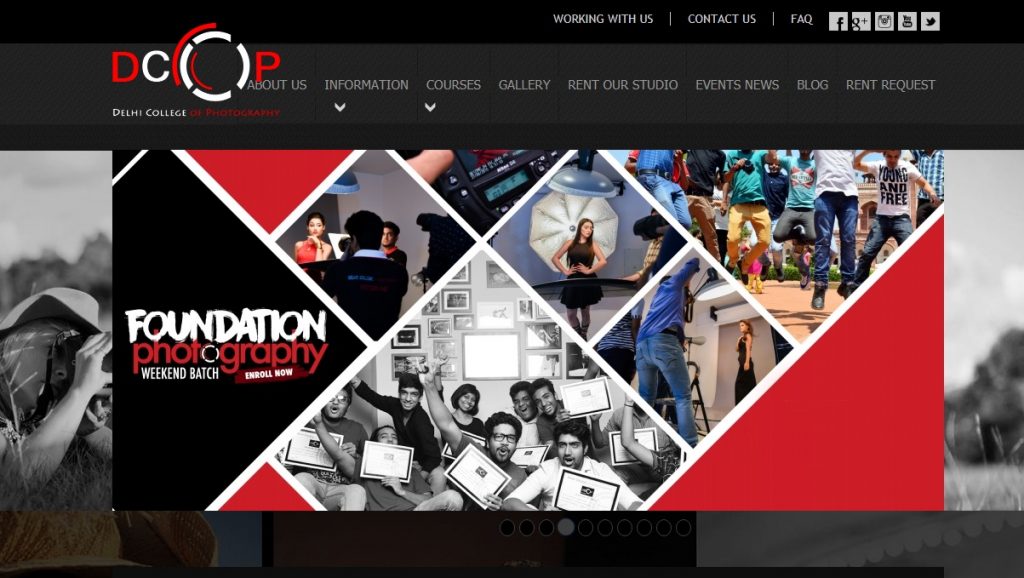 Delhi College of Photography has become a mark of reputation over the past few years. In India, the institute is known as one of the top-ranking photography school that produces quality photographers. The institute offers both long-term and short-term courses with specializations in organizational, creative, and commercial photography. There are three levels of courses that are basic, advanced and foundation. The courses are designed in such a way it satisfies the need of both newbie photographers and photographers who want to brush-up or enhance their skills to advance their careers. Some exciting courses offered by the college are Fashion Photography, Wildlife Photography, and Candid Wedding Photography. Apart from photography, the institute also offers courses in film-making and make-up.
AJ Kidwai Mass Communication Research Center (New Delhi)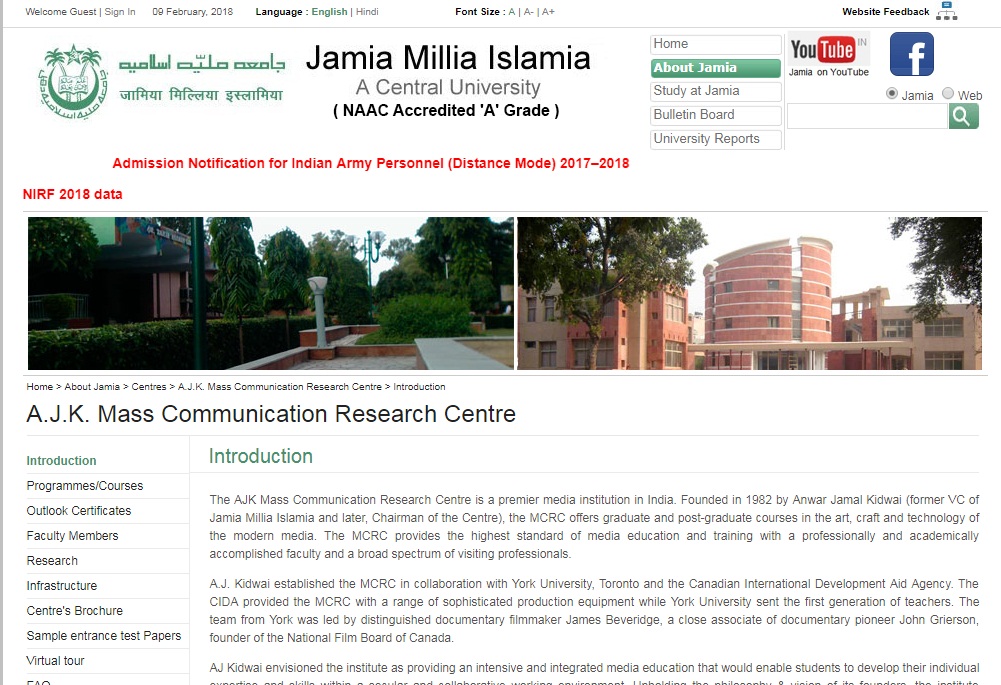 AJ Kidwai Mass Communication Research Center (MCRC) was founded in 1982 by Anwar Jamal Kidwai who was the former VC of Jamia Millia Islamia. It is one of the most prestigious mass communication institutes in India. It is famous for its technical guidance from world-class instructors and aesthetic. AJ Kidwai established the Mass Communication Research Center in collaboration with York University. The York University sent the first generation of teachers while the Canadian International Development Agency provided the MCRC with a range of polished and refined production equipment. MCRC offers courses like Visual Communication programme and PG Diploma in Still Photography. Along with this, other courses offered by the institute are MA in Mass Communication, MA in Visual Effect and Animation, PG Diploma in Broadcast Technology, PG Diploma in Acting, MA in Development Communication, etc.
National Institute of Photography (Mumbai)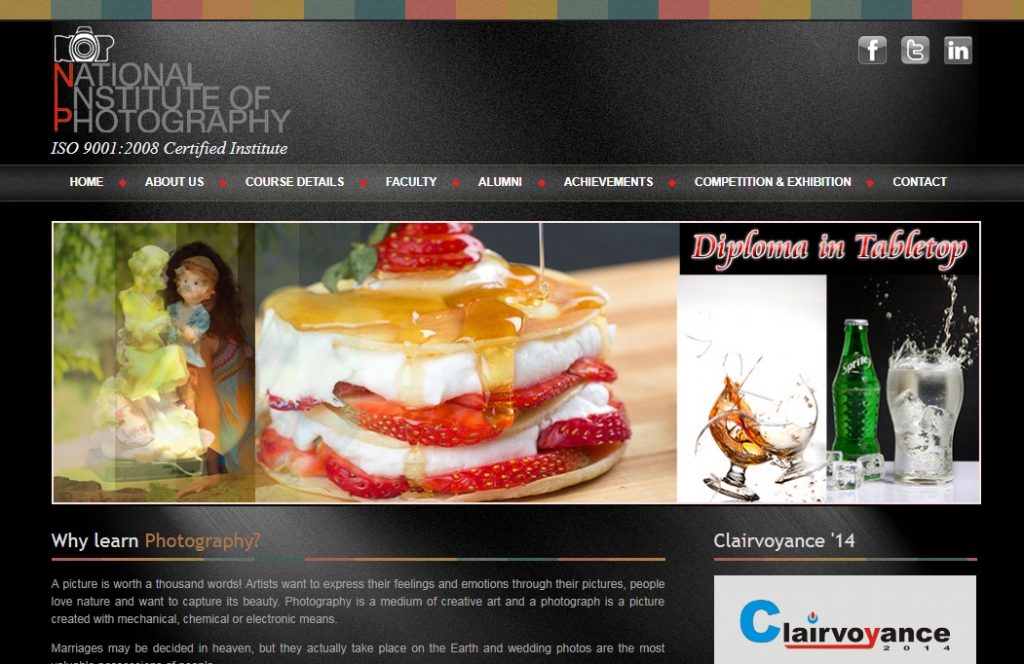 National Institute of Photography was founded in the year 1983 by the Late Prof Manohar Desai. The institute provides diploma courses and provides the certificate to the interested candidates. The Photography Programmes offer foundation training for various genres of photography like the press, sports, wildlife, bird photography, macro photography, nature, etc. The syllabus includes theory as well as practical classes that are designed to inculcate thorough knowledge about the subject to the candidates. The Programmes offered at the college include Foundation course, Crash course, Basic course, Advance course, Diploma in Fashion Photography, Videography, Diploma in Tabletop photography, Diploma in Wedding and Events Photography, Digital Photo-Editing Techniques, and Workshop on Fashion Lightings. The Photography courses offered by the College are Photography MFA Photography, BFA Photography, Bridge Course (Photography), and MFA Photography (PTPG).
Asian Academy of Film and Television (Noida)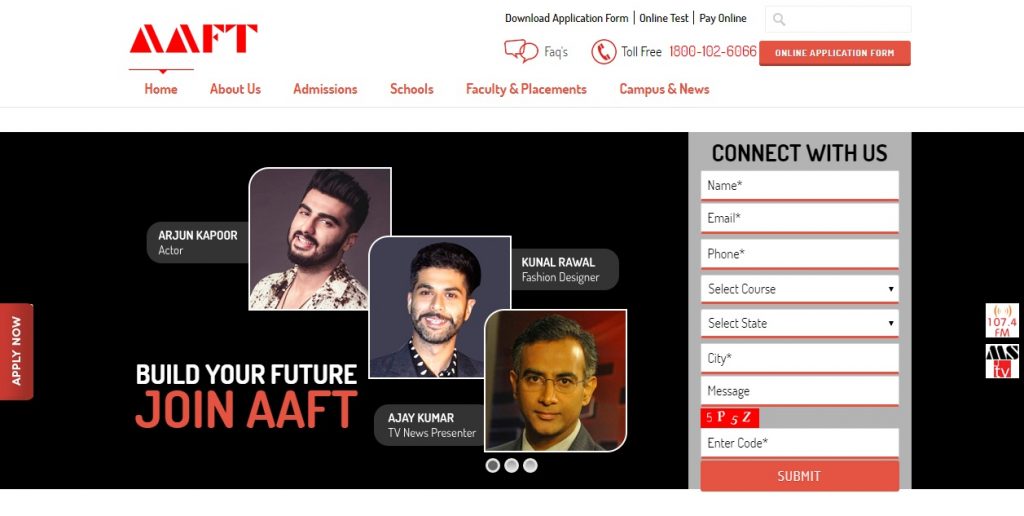 Asian Academy of Film & Television (AAFT) was established in the year 1993 and is affiliated with International Film & Television Research Center as well as the Marwah Films & Video Studios. The Aspirants are chosen as the part of the institute based on their performance in an entrance exam, followed by the personal interview round. AAFT offers a 3-Month programme in Journalism and Still Photography, which is more specific to Photography. This is a full-time course, with a fee of Rs. 54,000. Some other courses offered by the institute are Bachelor of Fine Arts, Diploma in Acting for Film and TV, Bachelor in Performing Arts ,Diploma in Camera and Lighting Techniques, Bachelor in Performing Arts, BSc Cinema, Diploma in Post Production, Diploma in Visual Communication, PGD in Film and TV Production Direction, Video Editing & Sound Recording, Camera & Lighting Techniques, Acting & Presentation, Screenplay Writing, Master of Fine Arts, Master in Performing Arts (Music Production) and Master in Performing Arts (Dance).
Light and Life Academy (Tamil Nadu)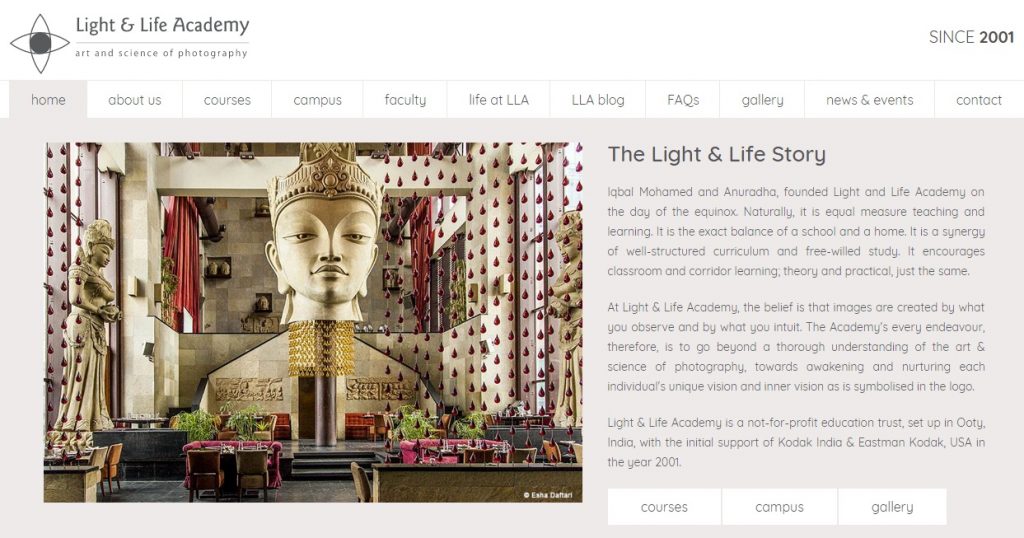 A famous advertising photographer, named 'Iqbal Mohammed' established Light and life Academy. This institute is a well-equipped institute with all the modern techniques of teaching the art of Photography. Besides, it has a well-structured syllabus with a good student to teacher ratio. As mentioned on the official website of the institute, Light & Life Academy is a not-for-profit education trust and it was set up with the initial support of Kodak India & Eastman Kodak, USA. The college is supported by more than 40,000 sq. ft. of campus that is designed by Mr Jaisim, a celebrated architect and is spread across three acres of land. Some notable Courses taught at the college include PG Diploma in Professional Photography, Diploma in Professional Photojournalism, and Short duration workshops.
If it is your dream to become a professional photographer and achieve a successful career in photography, do join one of these institutes.