Most of the lifestyle newborn photography takes place in the comfort of one's own home. It takes a documentary approach, allowing a photographer to capture the stories, affection, and emotional bond between a newborn baby and their family. This method frequently results in photographs that are natural and unobtrusive. Choosing the best lens for photographing babies can be tricky because no single lens is suitable for all situations.
To capture the diverse styles and sorts of photos typical of newborn photography, you'll need some different lenses, each for a distinct purpose. A medium telephoto, a wide-angle, a macro, and a 50mm prime lens are the primary lenses you'll need. 
Because you'll be photographing individuals in your pregnancy and newborn picture shoots, you'll need a portrait lens, usually a medium telephoto lens. You'll also require an excellent macro lens to catch the finer details, such as the baby's toes and fingers. You can stop there, but if you want to be ready for other circumstances, you'll also need an all-around 50mm prime lens for when you require a fast, lightweight lens that performs well in low light and produces clear images.
Canon RF 85mm f/2 Macro IS STM Lens
The Canon RF 85mm f/2 is one of the most incredible lenses for newborn photography, with a bright f/2 aperture and outstanding prime quality. The maximum f/2 aperture, along with the nine-blade circular aperture design, allows you to subtly blur the background, resulting in stunning bokeh that brings the infant into sharp focus. Plus, with a 1.15-foot minimum focusing distance, this Canon RF 85mm lens gives you the most creative freedom when it comes to framing and composing your photo. And, with up to five stops of shake correction, you may get creative when shooting handheld without sacrificing image quality. A 12-pin communication connection included with the camera ensures quick autofocus response.
Canon EF 50mm f/1.2 
The Canon EF 50mm f/1.2L is one of the most incredible lenses for portraits because of its f/1.2L aperture, which allows you to shoot wide open. It has one of the fastest autofocus speeds in its class, and its overall 72mm filter diameter, and dust and moisture resistance give it a professional look.
A high refraction glass-moulded aspherical lens element is included in the lens, which reduces spherical aberration and allows you to capture finer details while maintaining excellent image quality.
It sports an ultra-wide aperture for a shallow depth of field, the fastest autofocus lens in its class, optimized lens coating and construction, and is high-performance and weather-resistant. It is the best lens for newborn photography. 
Canon RF 100mm f/2.8 L Macro IS USM Lens 
The Canon RF 100mm f/2.8 is a go-to for infant photography because it was the first medium telephoto macro lens. With a fixed 100mm focal length and up to 1.4x magnification with autofocus, you can photograph your darling subjects from close or far. The f/2.8 maximum aperture ensures the lovely bokeh background that many newborn photographers desire.
Furthermore, the built-in picture stabilization system with up to five stops of shake correction allows you to roam around handheld without worrying about blurry images. The fast and smooth autofocus keeps your subject crisp throughout the shoot, and the dust and weather-resistant design allow you to get outside and play with more natural surroundings. During Macro Shooting, Hybrid IS compensates for Angular and Shift Camera Shake. 
Sony E 55-210mm f/4.5-6.3 
Sony's E 55-210mm f/4.5-6.3 is the only lens with telephoto zoom capability for crop-sensor camera bodies (APS-C). It's a universal lens for close-up portraiture as a telephoto lens with 3.8x magnification. The lens's 7-lobe circular aperture also creates a lovely blur background. The E 55-210mm f/4.5-6.3 fits easily as a lightweight lens into your pocket. It is also the best lens for newborn photography and has an Optical Steady Shot feature that improves image sharpness when taking photos with your hands.
Sony FE 24-70mm f/2.8 GM  
It doesn't get much better than the Sony FE 24-70mm f/2.8 lens for newborn photography versatility. With an aperture that allows you to capture blurred backgrounds, the full-frame G Master standard zoom lens delivers exceptional image resolution—among the best in its class (and in low-lit situations).
The Sony FE 24-70mm f/2.8 lens offers ultra-fast and quiet focusing, which means the infant will remain crystal clear as you walk around, and noisy focus sounds won't distract them from their beautiful position. The extra-low dispersion (ED) and super ED glass elements, which prevent flare and ghosting, round out the lens' many qualities, ensuring a flawless and wall-worthy set of photographs. 
Canon EF 35mm f/2 
The Canon EF 35mm f/2 is a classic wide-angle Canon lens that is lightweight and versatile. With a GMo aspherical lens element, you can expect excellent image quality. It has a fast maximum aperture, picture stabilization integrated into, full-time manual focus override, and a quieter micro-stepping drive aperture. It's ideal for photographing sound asleep babies because it makes very little noise. Its full-time manual focus allows for manual focusing when in AF mode, and its low-speed focus allows for smooth video capture.
Nikon NIKKOR Z MC 105mm f/2.8 
The Nikon NIKKOR Z MC 105mm f/2.8 lens has numerous attributes that make it a must-have for baby photography, including edge-to-edge clarity and excellent image quality. The 105mm prime lens has a 1:1 maximum reproduction ratio, which helps subjects appear as realistic as possible. You may frame the newborn while subtly blurring out the bothersome background with an f/2.8 aperture. The lens can be used as a portrait lens or as a 105mm mid-telephoto lens; you can go as close to your subject as 0.96 feet while staying in focus. When used with a compatible Z series camera, five-axis image stabilization makes handheld photography a joy.
Nikon NIKKOR Z 85mm f/1.8 S 
The NIKKOR Z 85mm f/1.8 is another excellent Nikon lens for newborn photography. Professional photographers rely on this speedy and high-quality prime lens. It has an f/1.8 maximum aperture, which results in a soft, beautiful blurred background that focuses the viewer's attention to the essential component of the image: the baby! It has eye detection and focuses on making your shoot day go as smoothly as possible. Plus, ultra-quiet motor features guarantee that the baby isn't distracted after they've found the perfect stance. The NIKKOR Z 85mm lens produces stunning image quality thanks best lens for newborn photography to two extra-low dispersion elements that eliminate chromatic aberration and colour fringing, resulting in a top-notch final output.
Nikon NIKKOR Z 50mm f/1.8  
Now few focal lengths are better for newborn photos than 50mm lenses, and the Nikon NIKKOR Z 50mm f/1.8 lens delivers. With a brilliant f/1.8 aperture and high-quality optics, you can be confident that every time you press the shutter, you'll get crisp, sparkling newborn photographs. With less picture distortion, this lens delivers incredibly lifelike images. The f/1.8 aperture guarantees gorgeous, creamy bokeh, making this an unbeatable baby-lens alternative. Autofocus is quick. The noiseless AF technology in the camera works quickly to produce focused shots throughout the shoot, while manual focusing is still available for those who prefer complete control.
Nikon 35mm f/1.4G AF-S  
Due to its 35mm focal length, this lens provides a perception identical to that of the human eye. This means you can take gorgeous images with incredible clarity, even in low-light situations. Suppose you take infant photos regularly. In that case, this lens is ideal for you because it has a sturdy design, is made of high-quality materials, and has excellent optical performance. Its fast maximum aperture offers a brilliant viewfinder image and lovely background blur every time. It is also the best lens for newborn photography has a Nano Crystal Coat (N) and an Aspherical Lens Element (AS) that remove ghosting, flare, coma, and other aberrations.
Sigma 24mm f/1.4 DG HSM ART Lens 
The Sigma 24mm f/1.4 DG HSM ART Lens is a full-frame digital SLR lens. It can be used as a 38mm lens on digicams having an APS-C format picture sensor. Because of its adaptability, it may be used in various photography genres, including weddings and astrophotography. However, it shines when it comes to taking shots indoors. In addition, because of its remarkable focal plane sharpness and beautiful bokeh, the lens can capture stunning shots in low light. You can reduce chromatic aberration and obtain sharper photos with both a Low Dispersion (FLD) glass and a Special Low Dispersion (SLD) glass.
Sigma 50mm f/1.4 DG HSM ART Lens for Canon 
The Sigma 50mm f/1.4 DG HSM is the lens for you if you're looking for a high-end 50mm lens with ultra-fast autofocus. A full-frame camera gives enough coverage, and when used with an APS-C camera, it is equivalent to a 75mm lens. The lens has an improved autofocus system that focuses your photographs more smoothly and with less lens movement. It also comes with a Super Multi-Layer Coating, decreasing ghosting and flare. It is also the best lens for newborn photography.
Canon EF 100mm f/2.8L 
It offers a lovely blur backdrop and autofocus that works swiftly and excellent images with a wide aperture. The optical stabilizer is in good working order. However, there is no chromatic aberration. It's the most versatile lens for infant photography, ideal for near portraiture. It's small and lightweight. It's made exclusively for newborn portraiture, and it captures images with the smoothest edge-to-edge sharpness possible. It also produces the most stunning bokeh.
Tamron AF 90mm f/2.8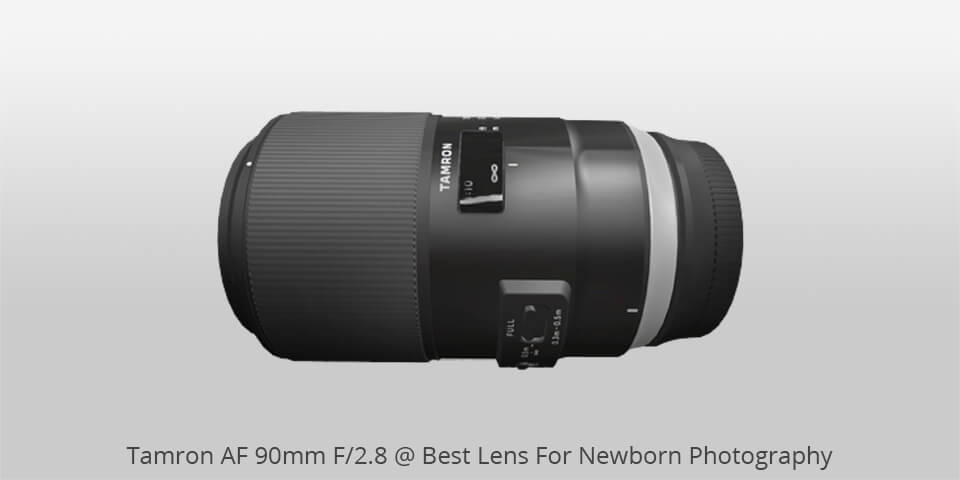 The wide aperture provides excellent image sharpness while minimizing chromatic aberration and vignetting. Fast focus in standard and macro modes, practical and time-saving optical stabilization, and a lovely bokeh effect. It has a beautiful ergonomic shape and controls that allow changing AF and built-in software via the TAP-in console. It is also dirt- and moisture-resistant and comes with a waterproof coating.
This Tamron 90mm macro lens excels at 1:1 macro photography. When working in macro mode, focusing on a lens is difficult. That's why this finest lens for newborn photography has an AF/MF option, which allows you to focus the camera even when auto-focus is enabled manually. Additionally, this lens sports a large focus ring that simplifies and improves manual focusing accuracy. 
Tokina AT-X 100mm f/2.8 
If you want to take close-ups with a 1:1 ratio at a range of 30cm, this Tokina macro lens is ideal. Because it's compatible with both digital and classic film single-lens reflex cameras, the frontal lens is covered with many layers of coating and meets CMOS and CCD specifications. When utilizing the AT-X M100 as a telephoto, it also has a focus limiter, which significantly boosts the focusing speed. This best lens for newborn photography also has a one-touch focusing system that enables easy switching between auto and manual focus modes.
These are the most outstanding lenses you can find to achieve the photography style during your newborn lifestyle sessions, with a wide choice of lenses to pick from. Choosing the correct lenses to bring to a lifestyle newborn session can make all the difference in the outcome. Remember that lenses can assist you in presenting the tale you want to tell, whether through your subjects, their environment, or from a new perspective.