Prominent industrial designer Dieter Rams noted, "Good design is inventive." Breaking new ground with never-before-seen website design, on the other hand, is becoming increasingly difficult. It would help make your portfolio website stand out in this highly competitive sector. We've compiled a list of all fantastic fashion portfolio websites for you. If you're trying to construct your portfolio, you should look at them and get some ideas.
Tim Melideo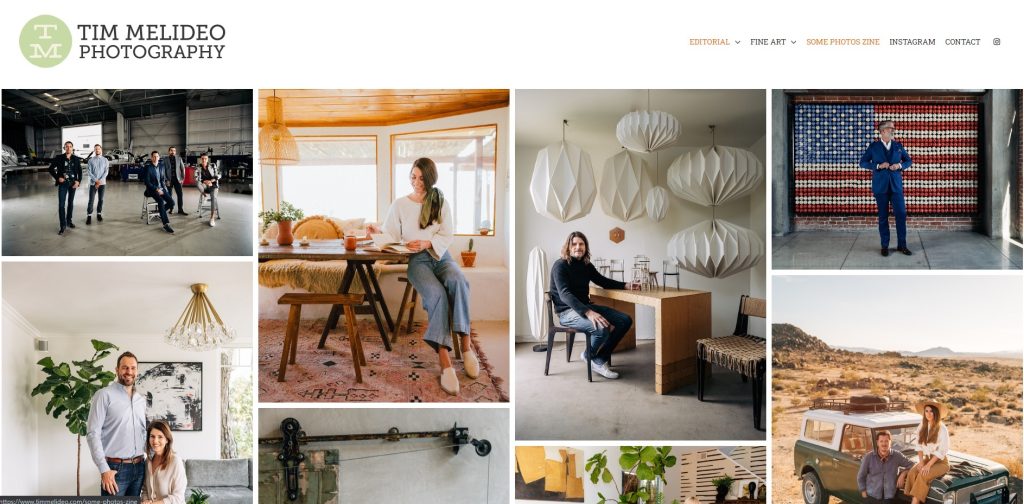 Website:- https://www.timmelideo.com
Aside from fashion photography, Tim has dabbled in travel, food, and interiors. His portfolio consists of his most excellent magazine fashion images and an online store that sells prints. Take inspiration from this list if you want to sell prints from your fashion photography portfolio.
Indrajeet Rajkhowa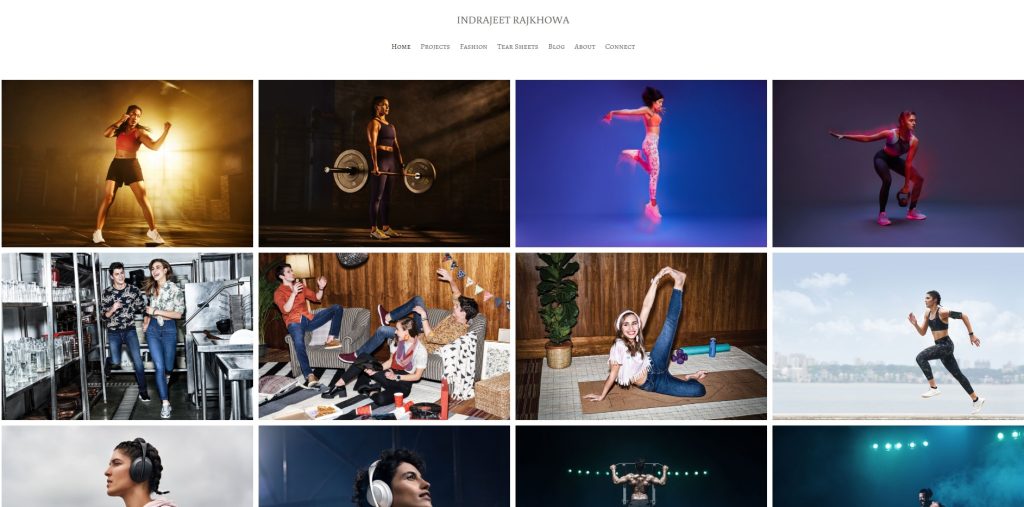 Website:- https://www.indrajeetrajkhowa.com
Indrajeet has collaborated with several well-known photographers. From the rustic charms of villages to the faces and locations of a bustling metropolis, his curiosity and camera have allowed him to capture the fine nuances and detailed details of life, always making sure to pour his creativity and enthusiasm into his tasks. He has had the opportunity to work on assignments for Lowe Lintas, Wieden + Kennedy, Ogilvy, Spring Marketing Capital, and Grey after graduation from Light and Life Academy, Ooty, and a brief apprenticeship.
He's worked on campaigns for several well-known brands. Aside from commercial work, he is interested in long-term documentary projects and has worked with several storytellers. One of his most cherished works is the 'Hockey in the Himalayas' series, which profiles India's ice hockey fans in Ladakh. His previous documentary work has appeared in The Washington Post, Vice, Conde Nast Traveller India, Sanctuary Asia, Harper's Bazaar India, Verve India, and Earth Journalism Network, among other publications. Indrajeet is a Mumbai-based photographer who specializes in portraiture and fashion.
Amit Sharma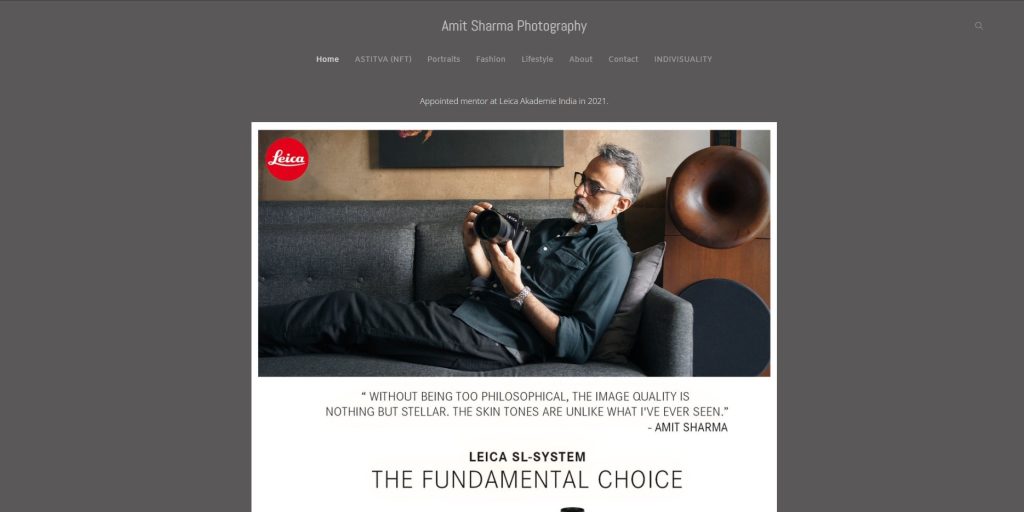 Website:- https://www.amitworks.com
Amit Sharma is a photographer based in Delhi who specializes in lifestyle, fashion, portraiture, and travel photography. All the country's leading media and several national and international companies are his clients. He's also been photographing street life and portraiture for over two decades. Amit's paintings allude to various aspects of his human experience, his ease of artistic collaboration, and the ferocious iconoclastic drives pulsing behind the polished façade of a practised socialized existence. He has also shot for several international brands, and his work has appeared in several of the country's prominent fashion and lifestyle publications.
Jeremy Power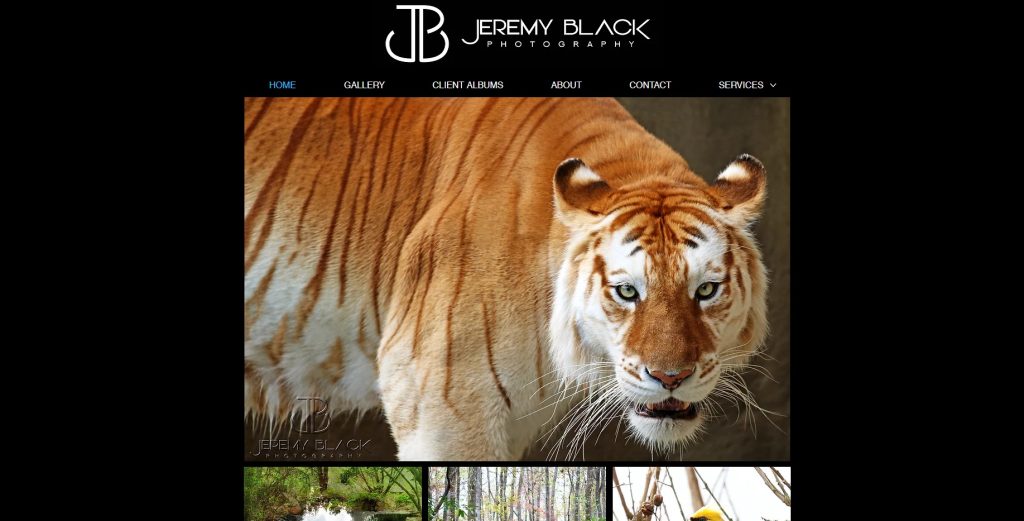 Website:- https://www.jeremyblackphotography.com

Jeremy Power is a dancer and model who works as a freelancer in Philadelphia. His portfolio website is designed in a minimalistic style. It emphasizes all his materials – breathtaking pictures and dance photos, and many more activities – while still providing a pleasant browsing experience for the customers who visit the website.
Rodrigo Paiva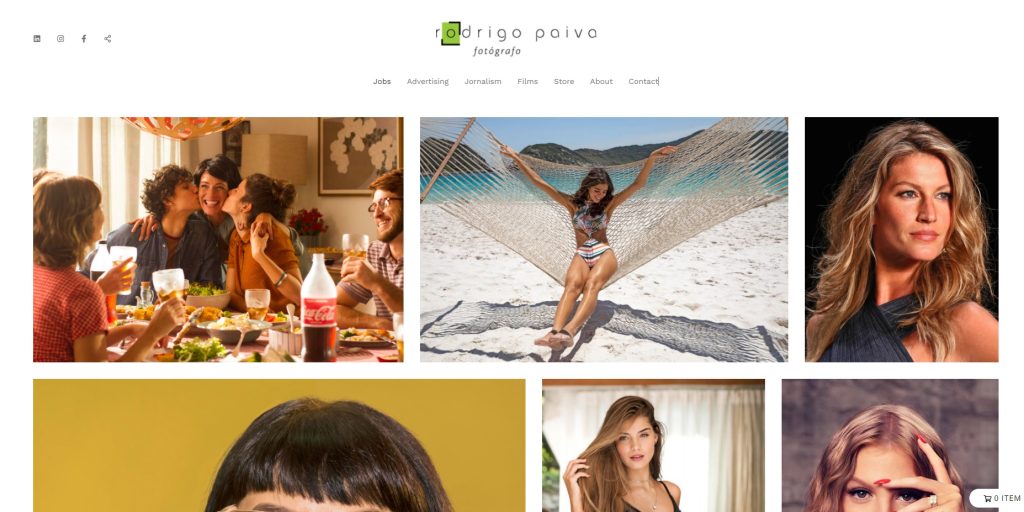 Website:- https://www.rodrigopaivaimages.com
Located in Sao Paulo, Rodrigo Paiva is a photographer who specializes in editorial and commercial work. Journalism, advertising, fashion, and various other fields have benefited from his photography. Rodrigo has photographed supermodels of the calibre of Gisele Bundchen on the runways of some of the world's most well-known fashion shows.
Tejal Pandey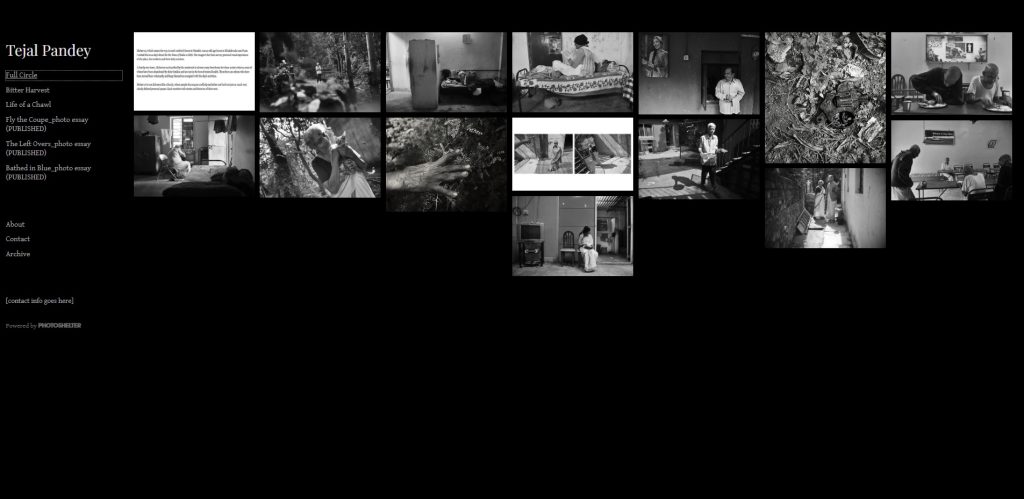 Website:- tejalpandey.photoshelter.com

Tejal Pandey is a freelance fashion photographer located in Mumbai. In addition to fashion photography work, her clients include celebrity chef Manu Chandra and noted filmmaker Dibakar Banerjee. Tejal's fashion photography portfolio is simple in style, with white-coloured typography against the portfolio's black background.
Kunaal Bose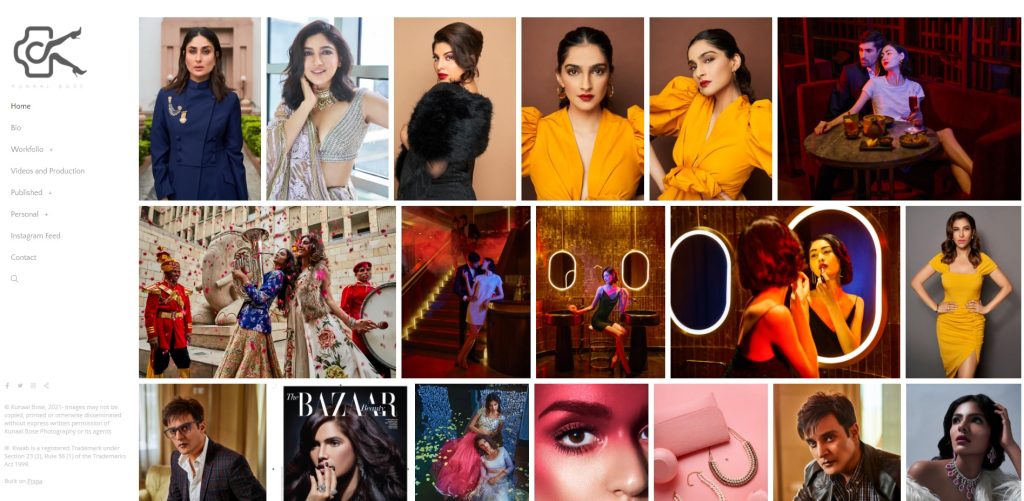 Website:- www.kunaalbose.com
A New Delhi-based creative consultant and welfare activist interested in communication and advertising. I've been schooled by illustrious teachers from our studio in New Delhi and have worked as a practising artist. He finds inspiration in ordinary life and how we view the world around us.
His portfolio includes cinematography, celebrity, fashion, lifestyle, product, food photography, and more, published in print magazines. We place a high value on clothing aesthetics and human emotions. A photograph or film results from several circumstances that must all be in place to reflect the essence of the story being presented accurately. He also strives to achieve the ideal balance of these aspects in my initiatives.
Ashish Chawla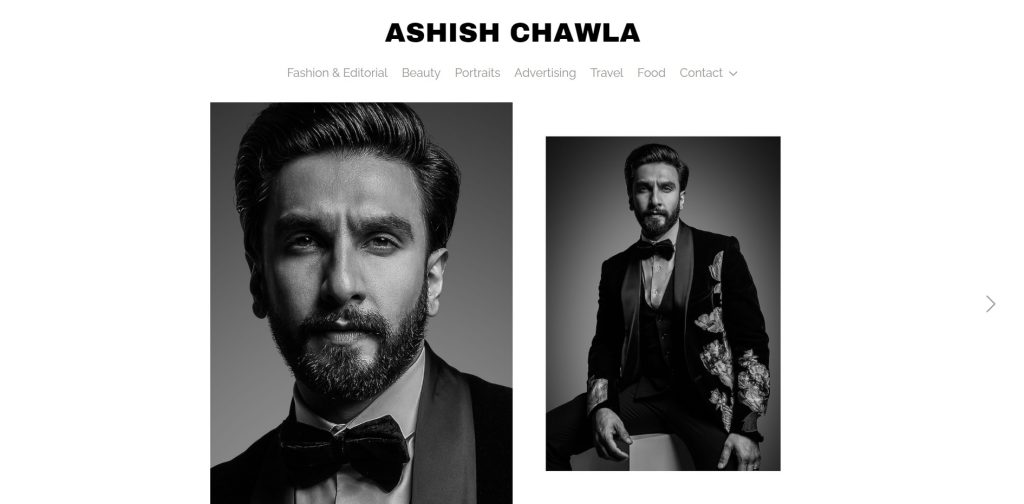 Website:- https://www.ashishchawla.com
New Delhi, where Ashish was born, is a real melting pot of cultures. A dozen languages coexist peacefully with modern buildings on every street, where clothes and cuisines change at every turn, and where Mughal domes coexist peacefully with modern skyscrapers. By the age of 17, he had discovered his artistic side and had picked up the electric guitar, eventually forming his rock band named Zephyr.
Then he discovered a world where visual music was the language of expression rather than vocal music, and he spent his formative years studying fine arts at Delhi's College of Art. Ashish Chawla has also worked with some of the famous fashion industry's A-listers. His images have appeared in magazines such as Femina, Sports Illustrated, and Good Housekeeping. He's worked in advertising for Honda, Tag Heuer, Sony, Samsung, Revlon, and others part-time.
Angela Larotonda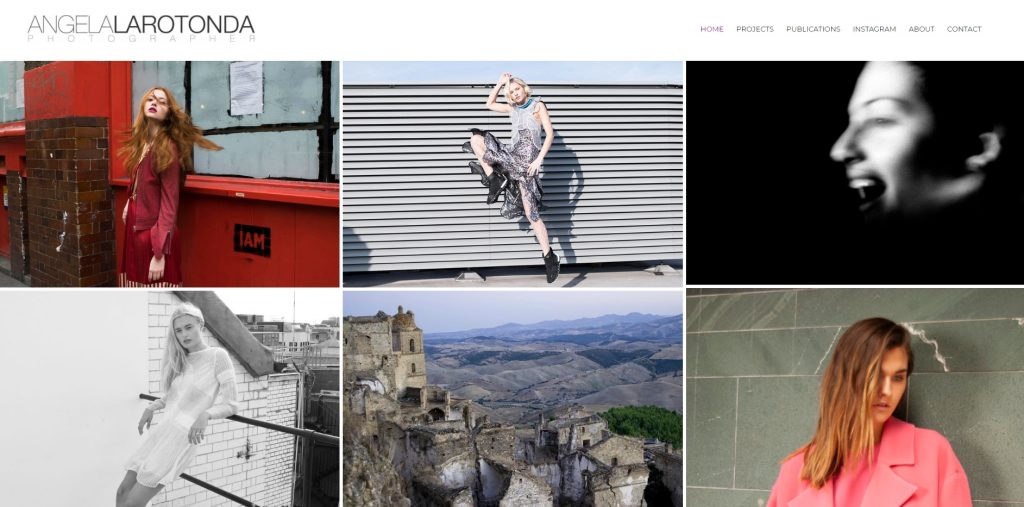 Website:- https://www.angelalarotonda.com
Angela is an Italian photographer whose work has appeared in Art, HUF, Atlas, the British Journal of Photography, Culture Magazine Australia, Livincool, La Gazzetta del Mezzogiorno, the Art Review Magazine, AlilaMag, and has been shown globally. Elisabetta Cipriani – Contemporary Art Jewellery, WtR, Karen Karam London, Storm Models, Sprovieri Gallery, Pacitti Company, Sias Fantini, Livincool, Alila Mag, Editori Laterza publishing, La Gazzetta del Mezzogiorno, Meggy K Munich, and many others are among her clients.
She has also worked for leading luxury and modern labels such as Burberry, DVF, Alberta Ferretti, Liu Jo, Intropia, and textile brand Rohi as a fashion and interior design wholesaler. She is a true fashion connoisseur who uses her blog to express her enthusiasm for contemporary photography and prides herself on knowing everything there is to know about the fashion industry.
Manpreet Singh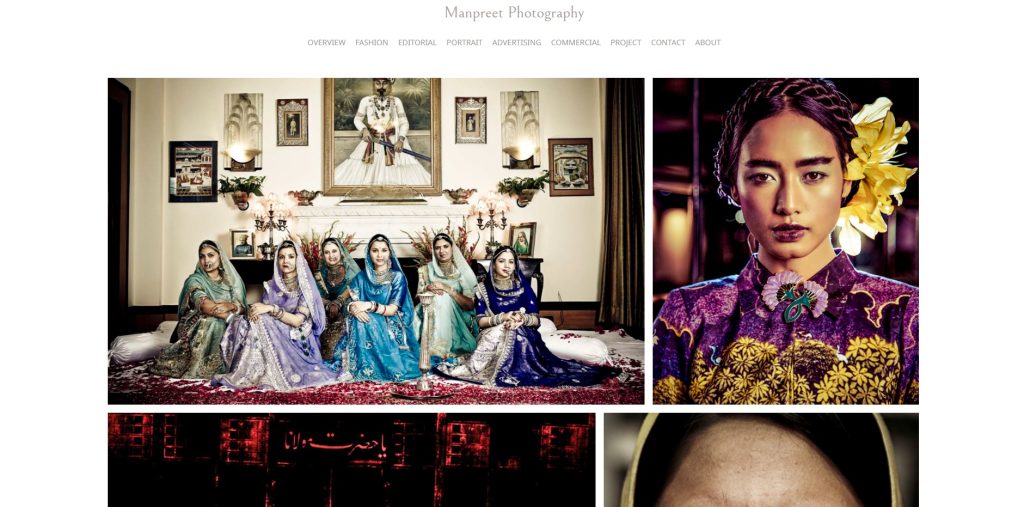 Website:- https://www.manpreetphotography.com

Manpreet is a fashion photographer located in Canada. He studied under Tarun Khiwal, India's first Hasselblad master, and has developed his particular style of photography. The clean navigation on top of the website and the Pinterest-style homepage that shows his work in fashion and portraiture photography makes it easy for visitors to go through his portfolio.
Aneev Rao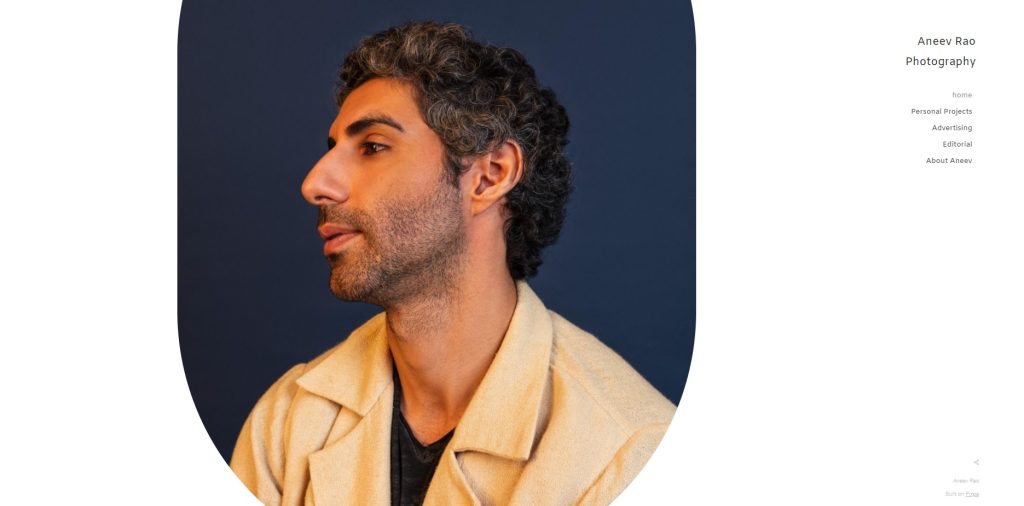 Website:- aneevrao.pixpa.com
Aneev Rao is a Mumbai-based fashion photographer who has spent the last decade creating images for brands, magazines, and, most importantly, himself.
His great sense of observation, along with his keen eye for colour, texture, and light, create a potent combination of pure creative vision.
He's had a lot of fun sharing his vision with the following clients and creative companies. ColorPlus, Linen Club, Levis, Nike, Saffola, Flipkart, Myntra, Biba, Prestige Man Store, Jabong, Peter England, Tata Sky, Wildcraft, Being Human, and others are among the commercial clients.
Grazia, Vogue, Harper's Bazaar, GQ, Man's World, Verve, Femina, Filmfare, People Magazine, Marie Claire, and Cosmopolitan are editorial clients. O&M, Grey, Leo Burnett, DDB Mudra, 22feet Tribal, Taproot, and Mccan are creative agencies.
Johann Wolfgang Ohngemach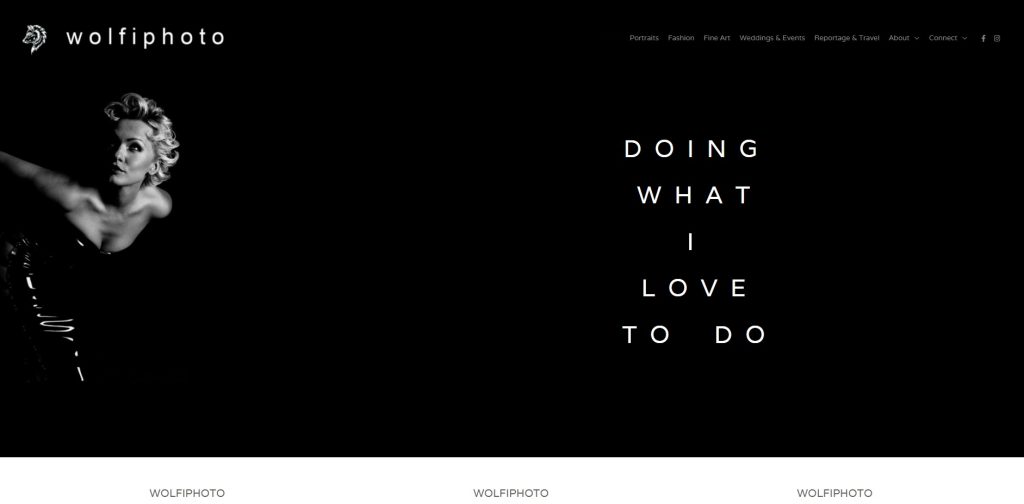 Website:- https://www.wolfiphoto.com
A passive person should be provoked, while an active or outgoing person should be softened or exaggerated. To "conquer" this goal, you must labour with panache. The desire to be loved by the camera is also obstructive: In the thoughts of the represented, the camera should not exist. A good portrait is a "one-on-one" experience. The portraitist and the person being represented have a conversation.
Both parties share a sense of trust or connection. Self-expression is based on creativity. He feels compelled to express himself. Johann is a photographer from Spain who currently lives in Barcelona. His fashion photography portfolio is dominated by black-and-white fashion images, which represent his style. His biography, in which he describes creativity as a form of self-expression, adds a lot to his portfolio online. Peter Hawke (UK), Louise Morton Model Agency (UK), Hainsworth (UK), Boomerang Media (UK), and Michael Fearnley Design are some of the clients (UK).
Erdem Akkaya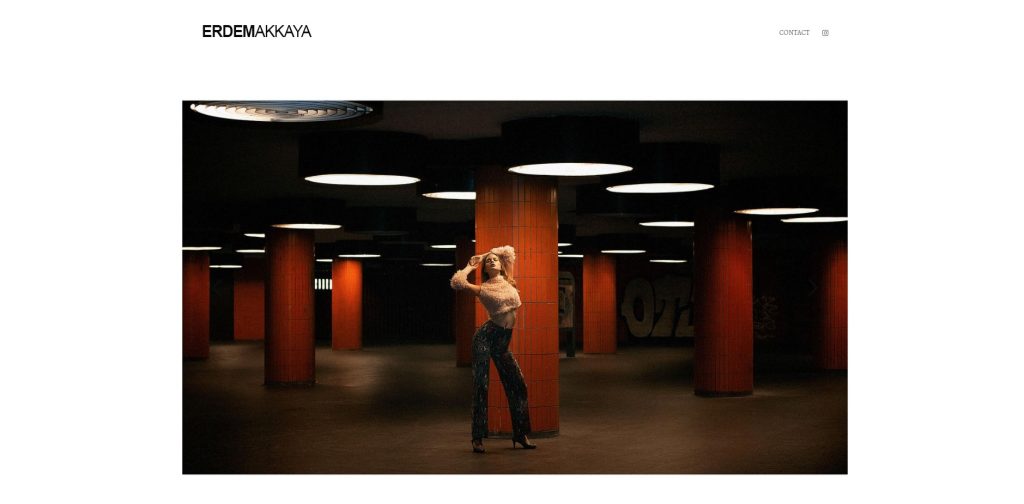 Website:- https://www.erdemakkaya.com
Erdem Akkaya is a fashion photographer from Turkey. His fashion photography portfolio is one of the best fashion portfolio websites you'll come across, with a boatload of stunning photos. His use of unusual backgrounds and outdoor situations, in contrast to the bright colours of the clothing, creates a pleasing contrast in his images. Several bright images are perhaps intended for editorials and possibly taken at his studio.
Olga Miljko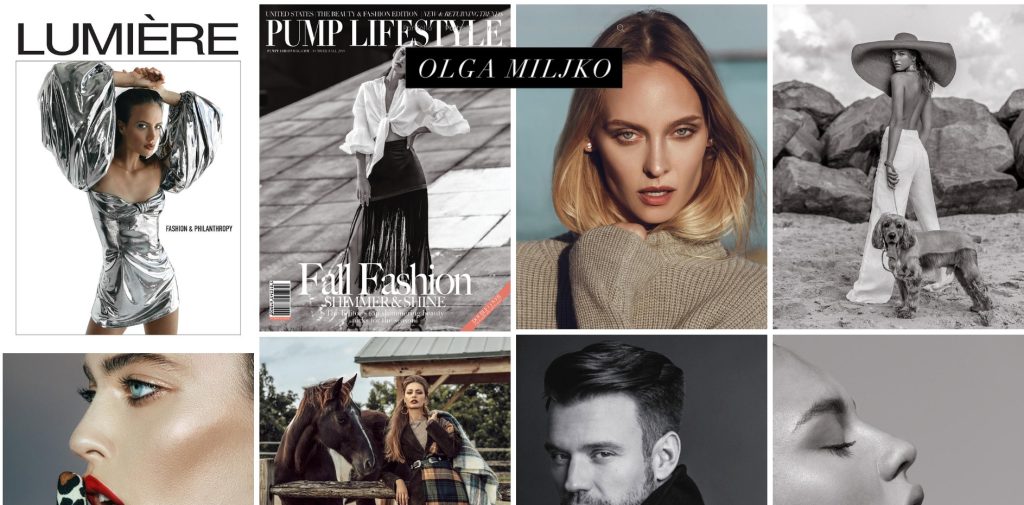 Olga Miljko is a freelance fashion photographer living in Florida. She has a fantastic collection of fashion photography.
It's a collection of fashion photos shot for journalistic and advertising reasons.
Aside from determining what sets you apart from other creatives and how you may represent this in your design, looking at other people's work is a beautiful place to start looking for inspiration. Keeping an excellent fashion portfolio website fresh and innovative is, of course, the key to success.
Adding photographs and work regularly and modifying the presentation style is the way to go. Treat your website as if it were on a social media platform so that your customers expect to see something fresh each time they visit. And this list has given you the whole idea, and I hope it'll also inspire you to start your creations.