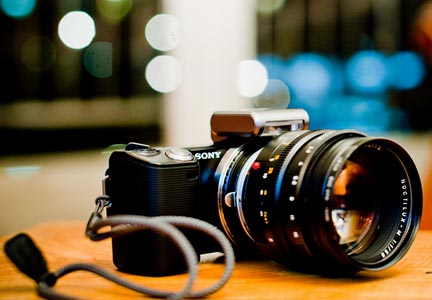 Ignore Your Viewfinder
The first step in low angle is accepting you will mostly not be able to look through your viewfinder. Several clicks require the camera in such an angle that only the smallest of frogs could take a peek. If your gear has a flip out view screen, you will be thanking your luck. If not, get used to having to go by your gut feeling.
 Stability
Low angle shot is out of your conform zone. You can't have a proper grip over it. Your camera's center of gravity is the focus of camera equilibrium across the board. It may take a physicist to justify, but it should be pretty clear that anything having a low center of gravity is going to be much harder to move. Like a well-engineered structure, give your camera a good bedrock and get your camera low. Many cameras come with the handle on top and will help you greatly to maintain stability. Just keep in mind- 'Low and steady wins many a race.'
Shoot, Review, Repeat
Gone are those days where you had to wait to see the final output till the film is developed. If you are going for low angle shot then it will be almost next to impossible to get the best click. This is where digital is a blessing to the photographer. You can review every shot on a camera's view screen, find the error and learn from your mistakes. It has never been easier than with the digital revolution. So, get up, Use it, Take a shot and see what can be changed, either with exposure or composition and try, try again until the shot you want is captured.
 Get proper posture
Get on your hands and knees for better grip. There should be proper support for yourself. Since you don't want to move your camera during click, it's preferable to maintain this posture. If your gear has a rotating screen, that will be a big help to view the composition on the screen instead of your sleeping down and watch. Look for an interesting perspective and dimensional play between objects nearby.
Preventing Blown Out Skies
It may be a sunny day and all your clicks are coming out perfect as you desired. A nice balance of light and the exposure seems to be perfect. But until you opt for a low shot. The foreground is dull and the sky is not that well defined. What's happening?
If your low angle shot is including a lot of skies, and it is a sunny day, you will need to pay up or possibly, accept the limits of the scene in front of you. Shooting up and near the fire ball will make your gear squint with all its might, just like you would if you were sleeping on the ground staring partially into the sun. To compensate, take a call between the dark and the light and make your way for your decision. If you want a lot of sky or cloud to be defined, underexpose. If the foreground is too dear to you to let go and accept that the sky will be blown out. But at least you can capture the what is important to you.
We are from fashion photographers in Mumbai if you need such services contact us.