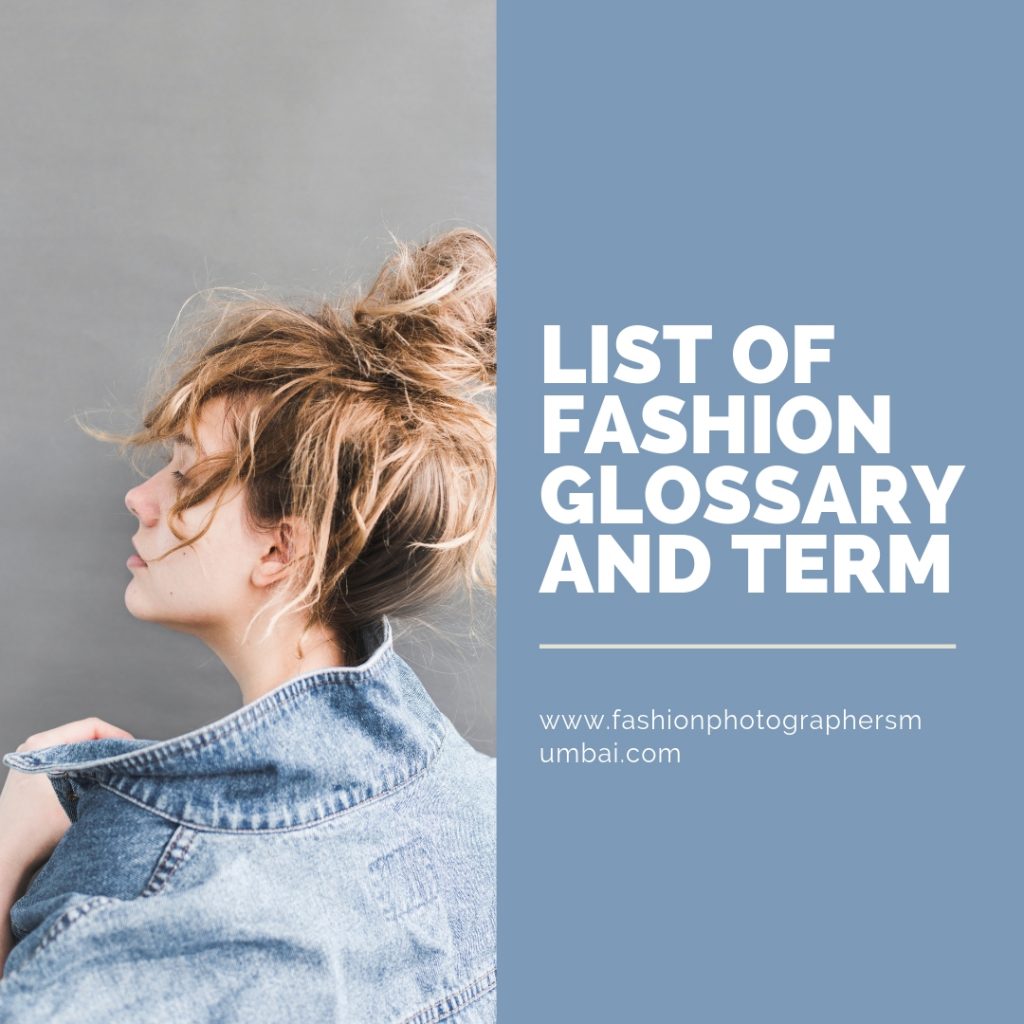 Fashion industries one of the fascinating field for the young aspirants as the Indian industries is on its infancy level as we all knew that the professional in every area seeks for the potential or the passion for work in an individual. Thus, you will never wish to sound like a fool in front of those professional though you might have learned your syllabus in your course. However, theoretical knowledge always differs from the practical knowledge as what you will experience on ground zero will be different from the notes you have studied. So, before starting your profession, you might refer to the industries jargons which will avoid you from being confused.
So, here is the comprehensive list of fashion glossary.
A
Accessories- The extra wearable items with clothes which includes Bags, Jewellery, Hats & many more
Activewear- The types of clothes worn during any active sports like sports, yoga, and swimming.
Acrylic- It is a replacement of wool in jackets, sweaters, and scarves. This fabric is a human-made polymer fabric. As this fabric are tend not to crease and are lightweight.
A-line- a skirt or dress which is narrow at the top and becomes wider at the end. The makes the shape of a type.
Anorak- It is also known as parka, windcheater or windbreaker. An anorak is a hooded sports jacket designed to face off extreme weather conditions.
Androgynous- Androgyny defines to look of indeterminate gender as this look resembles garment and style traits which are associated with the opposite gender wearer, for instance, women wearing Ties or the over sized shirt.
Applique- It is a method to decorate the garments as one fabric is applied to another sometimes with floral and leaf pattern and mostly designed around the edges.
Apparel- Used for describing a type of attire, clothing, garments
Argyle- A woven pattern made in diamond shapes with two or more colour and a solid background.
Asymmetric- A type of design in a garment in which one side is longer than the other, mostly used in necklines, collar, and hems.
Ascot collar- A tall collar with points turned up over the chin.
Aviator jacket- A leather jacket with sheepskin, influenced by leather jackets worn fighter jackets in WWI and WWII
Aviator sunglasses an over sized style of glasses, popularized by pilots
B
Babydoll– A type of dress made of light chiffon fabric and decorated with lace, ribbon, and bows, as its style consists of a micro skirt and an empire neckline.
Bandana- A piece of cloth tied or worn on the forehead or the neck.
Batwing-  A large piece of fabric that shoulder to wrist and wrist to the waist.
Bandeau- An alternative to bra worn around the breast as strapless.
Bell Sleeves-  A standard sleeve which flares out from upper arm or elbow to create a bell shape.
Below Pocket- A large pocket which commonly seen on jackets, pants, and skirts.
Belt- Is an accessory worn around the waist to support trousers which are made by cloth, leather, woven fabric or chain.
Beret- Soft round hat made of felt or knitted wool.
Bertha collar – A deep collar that drops from neckline to shoulder opening at the front or the back.
Bias- A diagonal cut made against the grain of a fabric, which follows the curves of the body.
Bib Necklace- A large front section that is decorated, embroidered or beaded.
Bishop Sleeve-  A long sleeve that is gathered at the bottom held by a button or cuff at the wrist.
Blazer- A formal wear jacket with long sleeves and lapels.
Blouse- A women's shirt is worn with saree.
Bootleg- A style of jeans or pants which reduces up to the knee and then slightly widens to the ankle.
Boucle- Woven or knitted fabric with a curved texture.
Breton Stripe- A thin blue horizontal stripes on a white background derived from the uniform of seamen.
Brocade- A highly decorated fabric with complex design often reversible and features decorative design such as flowers, foliage, and scrollwork. Made with a jacquard loom.
Brogue-  A design in shoes which carries flat heeled, leather, laced-up shoe having multiple holes in it.
C
Cable Knit- Knit in a raised loop stripe resembling a twisted cable.
Cap Sleeve- A small sleeve (shorter than a regular sleeve) that extends up to shoulder.
Cape- A Sleeveless outer clothe which wraps wearer's back, arms, and chest and sticks to the neck.
Capri Pants- Women's slim-fit pants finishing just below the knee.
Cardigan- A knitted, woollen garment similar to the jacket with button or zip.
Cargo Pants- Loose suitable cotton trousers with large pockets center down each leg.
Chelsea Boots- An elastic-sided boot with high heels.
Chemise- a Loose fitting dress that hangs straight from the shoulders without a defined waist.
Cigarette Pants- Women trouser with straight and tapered legs.
Coat- A outer cloth worn as part wear or formals and extend below the hips.
Cocktail Dress- A shorter style of evening dress worn to formal, semi-formal and cocktail events, as they fall to mid-thigh or the knee.
Column Dress- A slim-fit, straight cut dress that does not have shaping.
Cowl- A large loose hood found on necklines and backs.
Crochet- A decorative knitting technique created by looping and knotting fibres with a special needle.
D
Darts- Stitched in fold designed to give garments shape. In particular around the breast, waist and hip areas.
Distressed- An area of fabric that has been artificially aged or worn. Commonly used on denim.
Dolman Sleeve- A dolman sleeve has a large armhole, extends from the bodice and narrows at the cuff.
Duffle Coat- A coat made up of duffle normally hooded and stuck with toggle.
E
Elbow Patch- Patch of fabric, usually made with leather or suede, worn over the elbow for swelling.
Embroidery- Method of decorating fabric with designs stitched in coloured thread or yarn.
Empire Line- Low cut dress with a high waistline and short bodice.
Epaulettes- An ornamental strip of fabric on the shoulder.
Evening Wear- An outfit suitable for formal events.
Extra Wide Leg- A type of style of the pant which is designed with an extra wide fit around the hip, thigh, knee, and hem that helps to balance out curvy hips.
F
Fabric- Any material made by lacing, knitting, crocheting, or bonding yarns or threads to form a textile.
Fad- A fashion that becomes popular in a culture quickly, remains famous for a period, then loses popularity dramatically.
Fashionista- A person who follows fashion, or is involved in the fashion industry.
Fatigues- Military combat apparel.
Fedora- A low, soft, hat with a curved visor and crown creased lengthways.
Fez- A red flat conical hat shaped with black sword knot on top worn in the Muslim religion.
Fishnet- Open lace knit, more often associated with hosiery.
Fishtail- A fan-shaped addition to the train of a dress, popular in evening gowns a fish like a train follows behind the wearer.
Fit and Flair- A form-fitting Bodice with a skirt which flairs out below the hips.
Flannel- Small piece of towelling, a short pile fabric.
Floral- Fabric printed with flower design.
Footwear- Worn to protect the feet and made in a range of styles and materials.
Fragrance- Perfume from essential oils, aroma compounds and other elements to provides an attractive smell.
Fluted- A long sleeve broadens at the wrist.
G
Garment- A segment of clothing made up of various pieces of fabric and fastenings.
Garter- A narrow band used to hold up the stockings.
Geometric- Designs based on simple shapes such as the circle, square, triangle and trapezoid.
Gingham- A lightweight cotton cloth, usually checked. Typically checked in whites and bold colour.
Gunmetal- A colour that refers to an Alloy.
H
Halter-neck- A top for women with a single, tied strap that passes behind the back of the neck.
Harem pants- Loose fitting trousers tied or gathered at the ankle.
Harris tweed- A soft thick tweed woven from hand dyed woollen yarns.
Hats- A piece of clothing worn on the head, with a high crown and brim.
Haute Couture- A custom-fitted fashions that are the pinnacle of the fashion industry.
Heels- An element called a top piece that is added to the back of the sole of a shoe, lifting the back of the shoe away from the ground.
Hem- The edge of a piece of cloth or garment folded up and sewn down in order to enclose the cut edge so that it cannot untangle.
Hipster- Style for skirts and trousers where the waistband fits low on the hip rather than the waist.
Hosiery- Tight-fitting knitted garments worn on the feet and legs.
Hounds-tooth- A duotone textile pattern of checks and four-pointed shapes, used mainly for outerwear, jackets, and skirts.
I
Inseam- It refers to the measurement from the pant crotch down to where the pant leg falls on the shoe; the inner seam on the legs of a pair of pant
J
Jacket- A thigh or waist length coat that may be fastened with buttons, a zip, press studs or toggles.
Jacquard Weaving- A versatile weaving method that allows a wrapping thread to be raised independently of the other warp threads.
Jewellery- An ornamental objects worn on the person or clothes, which is made up of precious metals like gold, silver and platinum and gemstones such as diamonds, rubies, and emeralds.
Jersey- A flexible fine knitted fabric, used in t-shirts and sportswear and figure-hugging garments; especially good for draping
Jodhpurs- Tight-fitting trousers worn for horse riding. They are fit on the lower legs and broadens above the knee.
K
Kilt- A garment piece from Scotland made up of tartan or plaid cloth.
Kimono- A long, loose Japanese robe with sleeves, tied with a long strip.
Knee-Length- Refers to a dress or skirt that falls above or below the knees.
Knife–pleat- Very narrow pleats folded to form regular sharp pleats on skirts and dresses. Knitting- A method in which yarn is manipulated to create textile or fabric often used in many types of a garment as it creates multiple loops of yarn in a line or tube.
L
Lame- A glossy fabric made with either gold or silver metallic threads.
Lapel- The folded flaps of cloth on the front of jackets or coat mostly used in formal wears.
Leather- A material produced by tanning animal rawhides and skins, usually the skin of cattle, sheep, pig, and goat are used as raw material.
Leg warmers- covering for lower legs similar to socks but these are footless and thicker.
Line- The divisions of garment that are used to describe its shape and appearance.
Lingerie- A variety of garments used by women which include undergarments, nightwear and light wear robes.
Look Book- A collection of photos which features styles and conceptual creative ideas, influences, and clothing line.
Lycra- Man-made synthetic fiber is known for its exceptional elasticity.
M
Macrame- Knotting strings in pattern to make decorative articles.
Mary Jane- A female shoe with rounded, closed toes and a buckled strap across the instep.
Maxi skirt- A long, full-length skirt.
Merino wool- The material made from merino sheep known for its unique properties.
Micro-skirt- A very short skirt that hardly covers the butt.
Mini skirt- A skirt with a hemline that is usually at least 20 cm above the knee.
Mohair- A silk-like fiber or yarn made from the hair of the angora goat.
Monochromatic- Usage of a single colour.
N
Natural Fibres- Fibres from plants and animals that can be spun into thread.
Neoprene- A synthetic fiber, used for wetsuits and other water sports attire.
Nylon- A durable, lightweight material with elastic properties used for clothing and other items.
O
Open Back- A back style that shows the entire back without the use of straps, sheer fabric, etc.
Over sized- Enlarged cloth, scales are played to alter the natural form of the wearer.
P
Pattern- A repeated design that can be printed, stitched or woven upon a fabric.
Peek-a-boo- A part of a garment that is cut to reveal skin or underwear.
Petticoat- An undergarment worn by women under a sari or dress.
Plaid- A patterned, woollen cloth with repeat horizontal and vertical blocks of colour similar to tartan.
Pleats- A double or multiple folds in a garment that is stitched by holding at top or side.
Pockets- A small bag stitched in a garment for carrying small items.
Poncho- A piece of a garment made up of a single sheet of fabric with an opening for the head.
Pret-a-Porter- Designer clothes sold which are in ready to wear conditions as they sold in finished conditions in a standard size.
Print- An inked design applied with pressure to fabrics like cotton, silk or polyester.
Pullover- A knitted garment which is put on being pulled over the head.
Q
Quilted- A Padding technique as the layers are joined together to form bed covering. They are sewed in a diamond pattern over fabrics.
R
Racerback- A vest tops where the back is cut away to reveal the wearer's shoulder blades.
Reversible- A garment such as a coat or a shirt that can be worn inside out.
Ribbing- A pattern in which vertical stripes of stockinette stitch alternating with vertical stripes of reverse stockinette stitch.
Ruche/Ruched- (pronounced roosh) A gathered ruffle used for decorating or trimming a garment.
S
Satin- A cloth, made up of silk, which has a shiny top surface and a dull back.
Seam- A join is formed between two or more layer of fabric or any other material are sewn together.
Season- A period which co-relate to the seasons of the year for which designers makes specific collections.
Shape- Various outlines or profiles which distinguish the body form.
Sheer- A semi-transparent and fragile fabric.
Shoes- A covering of the foot usually made up of leather or any other material having a strong sole and not reaching above the ankle.
Silhouette- The overall outline and shape of a garment.
Spaghetti Strap- A very tiny shoulder strap used on clothes like camisoles, cocktail dresses, and party dress.
Spandex- An artificial fabric, that is used for making stretchable clothing usually in sportswear.
Stole- A long piece of cloth or a shawl worn around the shoulders.
Stripe- The horizontally straight lines differing color to the material on either side of it.
Suit- A set of clothes which includes trouser, vest coat, a shirt which are made from the same fabric, designed to wear together.
T
Tailoring- A clothing that is made for a particular person by a tailor.
Tank Top- A sleeveless t-shirt or an upper garment with wide shoulder straps and a low neck.
Tapered Leg- Describe the shape and fit of the pant. Tapered Leg is a relaxed fit through thighs and knee and tapered from the knee to the ankle.
Tartan- A repeated multicoloured, square pattern in wool cloth made from coloured threads used to weave it.
Tea length- A dress or gown whose hemline falls below the knee and above the ankle.
Thong- A narrow piece of cloth that passes between the buttocks and joints with a band around the hips. also, it's sandals attached to the wearer's foot by a thong positioned inside the big toe.
Tie- The piece of cloth that is tied up with a knot at the throat and worn beneath a shirt collar.
Top Hat- A tall, flat-crowned, a broad-brimmed hat.
Train- The long, back part of a skirt or dress that chains behind the wearer.
Trench Coat- A long, loose belted knee-length raincoat made of waterproof heavy-duty cotton poplin.
Tulle- A fine net fabric, used in evening wear and bridal gowns.
Tunic- A long or short, usually sleeveless, straight, tube-shaped garment.
Tuxedo- Formalwear consisting of a black, smoking jacket with silk or satin lapels.
Twin Set- A coordinate with cardigan and jumper set worn by women.
U
U- Shaped neckline- A deep cut out of neckline shaped like letter "U".
Underwires- A rigid U-shaped rods arcing beneath the base of some bra cups. As it's used for support and structure, which gives the wearer a more pushed-up bust look, hence enhances the cleavage.
Utilitarian- Clothing that is primarily useful for providing warmth, protection or some other practical use.
V
V-shaped neckline- A neckline cut shaped like the letter "V".
Variegated- A fabric made with different colours of yarns or threads to provide bands, marks, or patches of different colours.
Velour- An expensive woven fabric similar to velvet used for casual clothing, soft furnishing, and hat.
Velvet- A woven short pile fabric, soft and rich to touch
Vent- An opening in the cloth that allows for greater movement.
Vintage- Clothing styles originating from a previous era.
Vogue- The current fashion craze.
W
Waistcoat- A sleeveless, upper-body garment cut at waist level with a vertical, button-fastened front opening worn over a dress shirt and beneath a suit jacket of a three-piece suit.
Weave- The pattern which connects threads or yarns called the wrap and weft created during the cloth production process on a loom.
Wide Leg- The Wide Leg pants are designed with a wider fit around the hip, thigh, knee, and hem, which helps to balance out curvy hips.
Wool- A thread found in the fur of sheep and other animals of the caprine family, such as sheep, goats, alpacas, and rabbits.
Y
Yarn- Any long, continuous piece which wraps around the fiber that is used for the production of textiles or knits.
Yoke- A fabric cut which files across the top of a shirt, trousers, or skirt.
Z
Zipper Pull- Refers to a metal accessory which enables for the opening of a zipper.