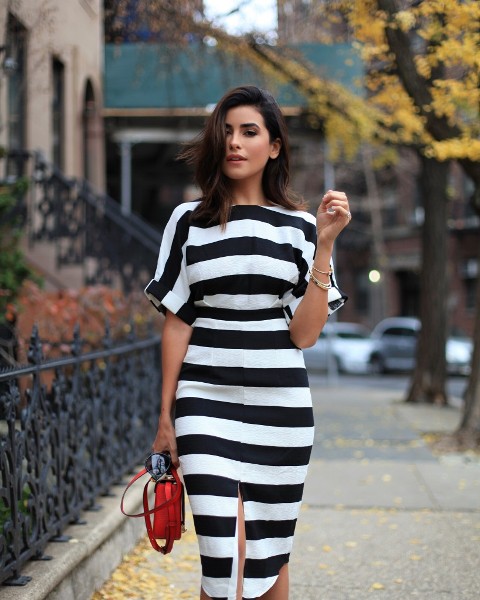 Fashion is not a thing which remains same all the time. Many trends come and go, while some of them remain constant because they are so good that they are here to stay. Trends keep on changing every day because fashion designers are working on it. One of the famous trends is stripes. They have ruled the fashion for a long time. You can slay any look by wearing stripes outfit. It can be for a party, a casual meet, for office or date. You can experiment mixing stripes and make your own style. And here are 6 such pieces that we think you should have if you love stripes.
An off shoulder top
Off-shoulder tops are super trending now-a-days. Strips look sexier on any type of body shape. Woman wearing striped off-shoulder top looks so pretty. This can be teamed up with the pair of denims or black trousers. If you are heading out for a party, you can pair an off-shoulder top with a skirt. Not only black and white stripes but other colors also look so adorable.
A classic shirt
Striped shirts are never ending fashion trends. They give a classy appearance to whoever wears it. You can wear it anytime. It is not necessary to follow a traditional way of wearing a striped shirt. You can hang out with friends wearing a striped shirt.
When combined with whites sneakers and denim, gives a classic chic look.
A blazer/overcoat
A blazer or an overcoat is perfect as a formal wear. It is a must-have for every stripes lover. You can wear this black and white blazer on black top and pants. This outfit is perfect as the professional wear.
A skirt
Women crazy for stripes must have at least one striped skirt. It looks elegant with everything. You can wear a shirt, a casual top or a party top, it highlights your outfit. Wear it for a brunch and you will slay the afternoon.
Trousers
A pair of trousers is an essential part of your wardrobe. You are allowed to pick any top from your wardrobe and try wearing it with striped pants; you will notice how trendy it looks. You can also try an ankle-length trousers to look trendy and match the current fashion rage.
A casual dress
Bodycon, health, maxi, and skater are the style options which you will find trending in the casual dress styling. Casual stripes dress gives an astounding look and you can wear this when you go out for shopping and lunch.
Make sure you get the collection of all these outfits in your wardrobe if you love stripes. It is very much in style and it appears chic and stylish.
We are from Fashion Photographers Mumbai. If you want to make a great portfolio then do contact us.